Reset any Epson Tank Printer like L3110, L3115, L3101, L3116, L3100, L3150, L3156, L3160, L1110, within a minute. No Paid Tool, No Authorised Service Engineer needed Totally Free. (My Personal Method)
If your Epson printer has stopped to print and two Red LED and Green Power button Light is blinking continuously. On the other hand, an error notification window (Service Required) appears on your computer screen when you try to print. Please don't go to another site. Here is the right place because here we discuss the solution. Follow the steps one by one given below, and you will able to use this tool.
---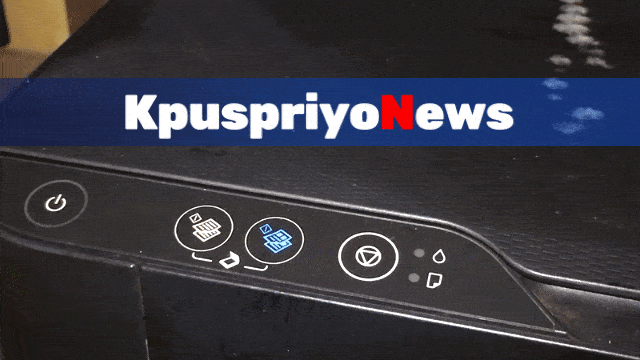 Important Note: This problem arises when Waste Ink Pad is full. With the help of EPSON L3110 Resetter, you will able to Turn On your printer. But it is recommended that clean or change the Waste Ink Pad also. Otherwise, it will overflow. If you want to know How to Clean the Ink Pad Click Here.

---
---
Welcome to another post of Epson printer resetter or Adjustment Program for Free. Epson L3110 is the most popular, Ultra High Speen, Heavy-duty, and low-cost tank printer in the market by EPSON. After a huge amount of pages print, it stops the print and indicates for service through error light blinking and Service Required message on the computer screen. That's called Waste Ink Pads Counter Overflow' of Epson L3110.
---
Some other Resetter or Adjutment Program
---
Why Waste Ink Pads Counter Overflow of Epson L3110
There is a large number of sponge pads in the Epson L3110 printer, which called "Waste Ink Pads". During the cleaning of the printer head, It generates waste ink. These pads absorbed this type of waste ink when Waste Ink Pads are overflow, the Epson L3110 printer stop working automatically.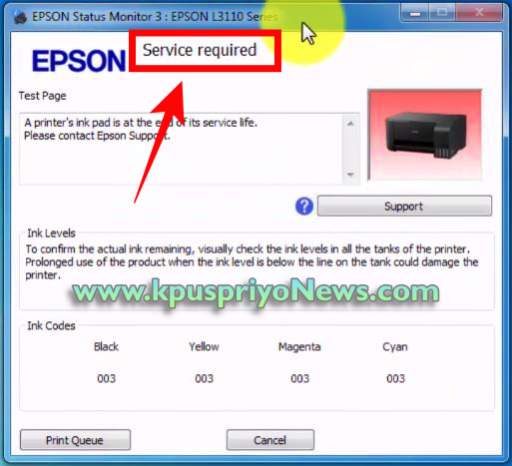 ---
How to Reset EPSON L3110 Printer by Epson Resetter or Adjustment Program
First of all, identify the Exact Problem of your EPSON L3110 printer. If you are not sure, you can follow the above information on the post. When you confirm that you have to reset your printer, follow the steps given below.
Note: Before starting the process you should have to disable your Antivirus Software, you have installed.
There are two parts of Epson L3110 resetting process. One is Keygen Activation and the other is the Adjprog Software operating process.
---
1. How to Activate Keygen Step by Step | Watch the Video
---
2. How to Reset through Adjprog Software | Follow the Image below
Follow the below steps and your will be able to reset your EPSON L3110 Printer.
1. Open Adjprog file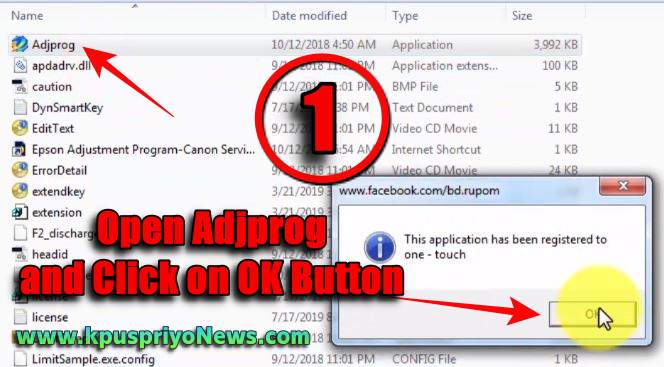 Open "Adjprog" file and another window will appear, click on OK
2. Click on "Select" Button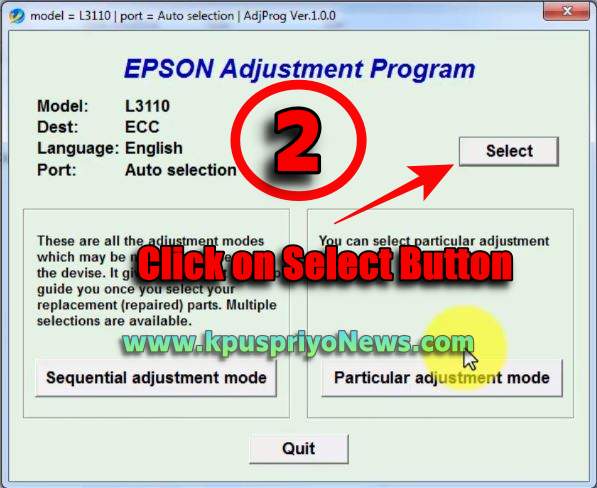 After click on OK a new window will be appear. Click on "Select" button.
3. Choose the Port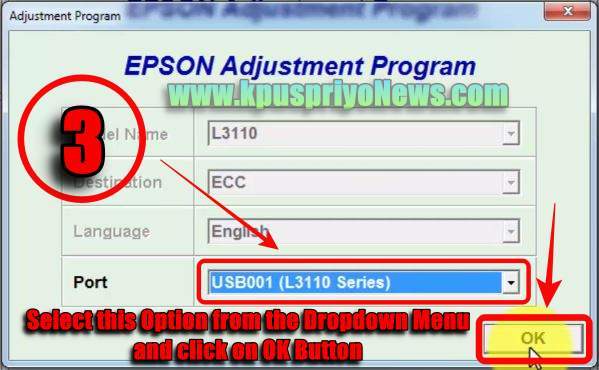 After clicking on the Select button, a new window will appear in front of you. Choose the port from the drop-down menu.
4. Click on Particular adjustment mode Button
After choosing the PORT, a new window will be appeared in front of you. Click on "Particular adjustment mode" Button.
5. Select Waste ink pad counter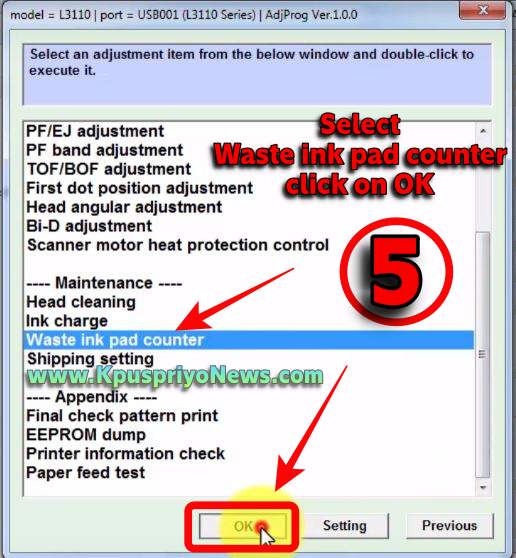 In this window you have choose "Waste ink pad counter" option. Then click on OK button.
6. Tick on Main & Platen pad counter then click Initialize Button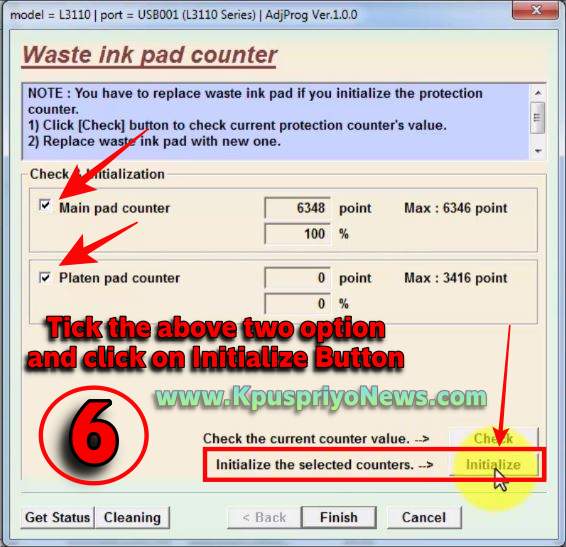 Tick on the Main pad counter and Platen pad counter. Then you have to click on Initialize button.
7. Click on OK button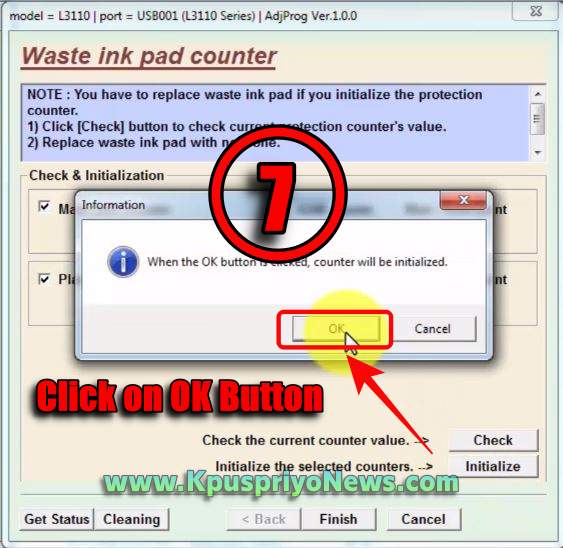 After click on Initialize button an Information window will be appear on screen. Click on OK button.
8. Turn off your EPSON Printer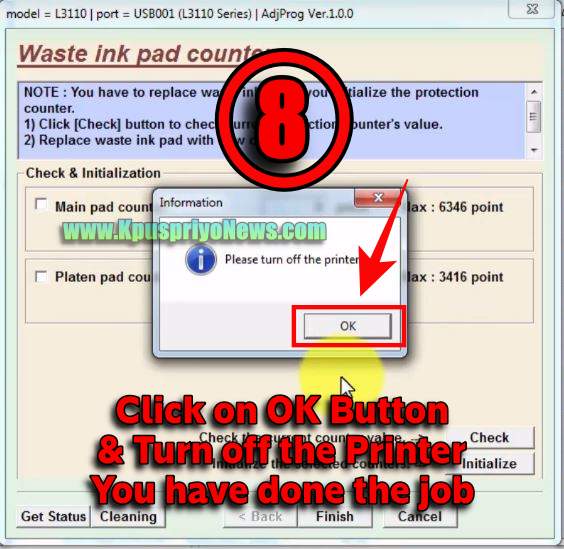 You have almost done the job. Just turn off your printer and turn on it. Your printer is ready to serve print.
---
How to Clean or Replace Waste Ink Pad EPSON L3110, L3115, L3101, L3116, L3100, L3150, L3156, L3160, L1110
It is recommended that after reset your EPSON printer clean or replace the Waste Ink Pad. Watch this video carefully and clean your EPSON printer Waste Ink Pad.
---
Final Word
Ok, guys, please make sure if you are getting benefited from this Epson L3110 resetter or Adjustment Program tool and your problem has solved, comment below. Now, you can share this post on social media with your friends. Thank you.
---
Copyright
We Respect © Copyright Law So that this Page will help to tell us About our Copyright Policy.
Kpuspriyo News not the Copyright owner of Any text, images, Graphics, Videos, and other media files. All credits goes to the respected owner.
All of the Files and Images are collected from Various Social media and websites, We just help people to find out their desired content. We never wanted to host any Copyright material on our site https://www.kpuspriyonews.com/. If you found anything violate Copyright low, please let us know, we will remove the content as soon as possible.
We Share contents for Public usages and Educational Purpose.